Cobalt Net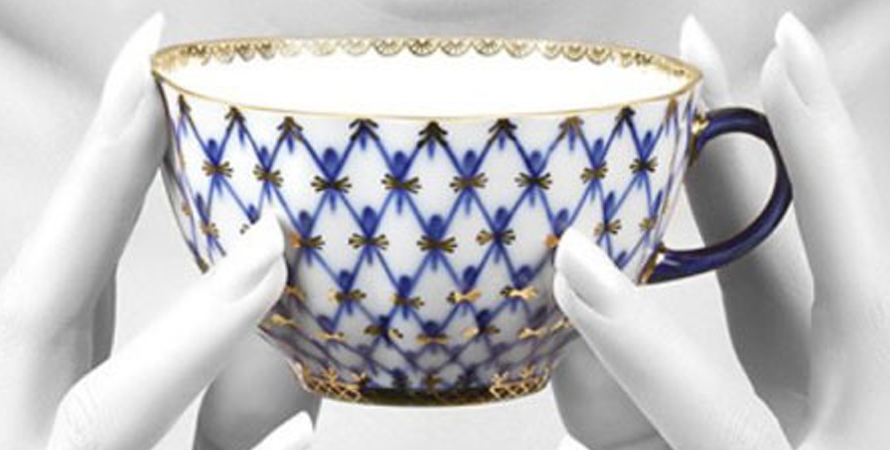 24 September, 2020
Elegant and noble pattern "Cobalt net", Lomonosov Factory's logo, is known to many people since childhood. It has been replicated at the production for over 50 year and has an invariable success. What is the secret of its popularity?
This famous pattern is based on motives of the design of the first porcelain set «Own» that was produced in the middle of the XVIII century by the creator of Russian porcelain D.I. Vinogradov for Empress Elizabeth.
Classical pattern "Cobalt net" was born not at once. It was created by a talented painter Anna Yatskevich. Born in Leningrad (now Saint-Petersburg), she spent the entire siege (8 September 1941 -27 January 1944) in her hometown. And the entire siege was working on his favorite Lomonosov factory. Taped crosswise windows of Leningrad houses in a siege period once attracted Anna Adamovna's attention. Whether the spotlight once in a special lighted them, or evening sun, but geometric pattern suddenly seemed beautiful to Anna, it inspired her and she came up this beautiful pattern.
Anna Yatskevich tried many variations to achieve geometrical perfection and striking rhythm of intersecting blue lines, decorated with golden stars. In one of the first versions of the pattern the net was not cobalt but golden. The Lomonosov Porcelain Manufactory started manufacturing porcelain sets with this pattern in 1945, right after the World War II. A year later, A. Yatskevich interpreted her pattern and created the famous cobalt net that gives elegancy and rigor to snow-white porcelain.
For the first time the pattern "Cobalt net" appeared on a tea-set in the "Tulip" shape (the shape author - S. Yakovleva). The simple and elegant pattern excellently outplayed the shape of the set and gave it a solemn and noble look. Both the shape and the pattern conquered the world in 1958 and received gold medals at the World Fair in Brussels. Later on the décor "Cobalt net" was supplemented by drawings on other products of the Manufactory, such as: coffee sets, tableware, vases and souvenirs. The development of these drawings belongs to the Lomonosov painter Galina Shulyak.
The set "Cobalt net" is represented in collections of The State Hermitage, The Russian Museum, The State Historical Museum and other largest treasuries of culture. is one of trademark styles and symbols of Lomonosov factory .